Spotlight: Doug Yeomans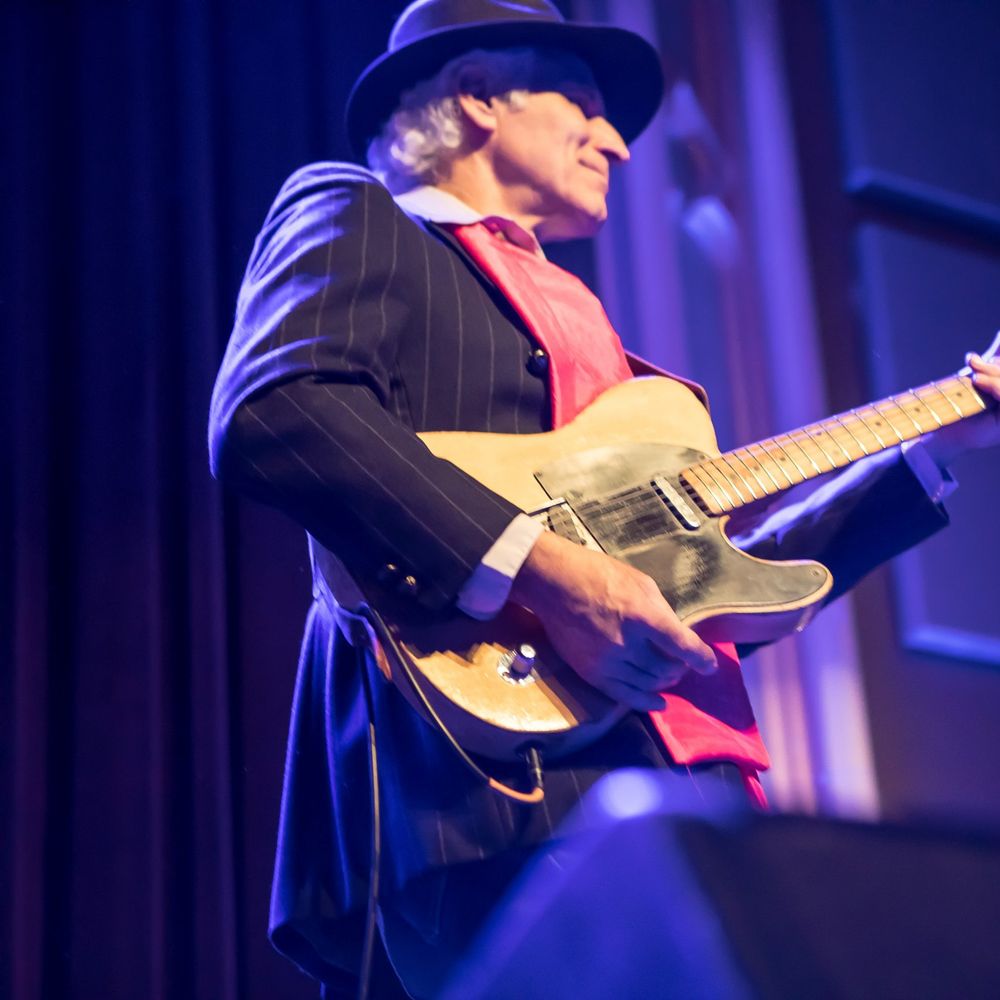 Doug Yeomans honed his craft in the bars and honkytonks of Buffalo New York, being mentored by the best players in the area.  His skill set spans many genres ranging from blues, bluegrass, country, folk, rock 'n roll, jazz, rockabilly and roots.  He quickly learned how to adapt his keen musicality, which in turn created a diverse music portfolio, highlighting his fierce versatility.  
* He is the premier Flatpicking Guitarist in Western New York. *
Several awards and recognitions surround his career, most notably being named the best guitarist at the WNED Buffalo Niagara Guitar Festival's North American Rock Guitar Competition and SAM Foundation's Americana Music Pioneer of the Year 2019. 
He has added his dynamic texture and defined artistry to countless recording projects, as well as live instrumental accompaniment for national acts, specifically being featured in the "Ring of Fire" (2007) touring Broadway production, as both lead guitarist and assistant musical director.  Before this he was featured as the lead guitarist in, "Ain't Nothin' But the Blues" on Broadway (2002) and "Always…Patsy Cline" at Artpark (1998).
He is currently the Musical Director of Buffalo's "The Last Waltz". 
Throughout the thousands of performances on his list he has shared the stage with some of the best in music which includes: * Stan Szelest   * Levon Helm   * The Band   * Bill Monroe   * Del McCoury   * Merle Haggard   * Vassar Clements   * Stan and the Ravens   * Jim Weider   * Bill Kirchin   * Robert Cray    * Sid McGinnis    * Joe Cocker   * Paul Butterfield    *Rick Danko,  among others. 
He is a highly respected and sought after guitar instructor for those of all ages.  He has instructed various masterclasses, as well as private instruction for aspiring professionals. 
Writing deeply personal and memorable melodies has been an important part of his musical journey and artistic evolution over the last several decades.  He currently has several albums to his name, which include: *Bayou Blues (2000)  *First Flight (2002)  *Down to the Roots (2005)  *The Acoustic Album (2006) and new addition **Friends and Heroes (2023), as well as two holiday albums titled *December Songs and a children's album titled *Christmas Time's A Comin'.  
When at home in Western New York, Doug can be heard tearing up the Telecaster on Tuesday nights with The Twang Gang at Sportsman's Tavern, or as a part of his blues rock band Doug Yeomans and the Lo Blu Flame.  You can also catch him on the Dreadnought with The Bluegrass Allstars, playing in an acoustic duet with fellow Buffalo based vocalist, Sue Kincaid, or even as a soloist, gigging throughout the area with a mix of songs he has written, along with a list of those he finds most significant to shaping the history of American roots music.